Community Midwife Programme
Better Finglas has a registered HSE midwife working in the local Finglas community providing a range of services to babies, expectant mothers, new parents and birthing partners. Mary has over 20 years experience working in hospital based and community maternity services both in the United Kingdom and Ireland. She has worked in The Coombe Women and Infants University Hospital gaining experience and expertise in all areas of Midwifery, including Antenatal, Delivery suite and Postnatal. The community midwife provides 'Preparing for Baby' antenatal classes, Infant Massage classes and Pregnancy Yoga classes. In 2018 Mary won an Irish Healthcare Centre Award for her Child Health and Wellbeing services in the Finglas area.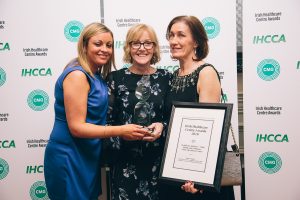 ---
'Preparing for Baby' Antenatal Classes
Our community midwife runs 'Preparing for Baby'  workshops in the community every Monday afternoon in the Wellmount Health Centre, Finglas. Better preparation for birth leads to better birthing outcomes. Mary provides support through your pregnancy, childbirth and caring for baby in early days at home.
Topics covered in the workshops include;
Healthy Pregnancy
Preparing for labour and birth
Caring for your baby
Looking after yourself during and after pregnancy
Preparing For Baby Workshop Flyer
if interested please register here
Tel: 01 8642941 | Email: abcfinglas@barnardos.ie
Tel: 086 0261034 | Email: mary.callaghan@barnardos.ie
---
Pregnancy Yoga
Mary is also a trained Pregnancy Yoga Instructor, providing free Pregnancy Yoga classes to pregnant women in Finglas. Pregnancy Yoga is a great way not only to relax and stay fit, but also helps you prepare for labour as well as promoting your babies' health.
Research suggests that pregnancy yoga can help:
Reduces levels of stress and anxiety
Improve quality of sleep
Decrease lower back pain, nausea, carpal tunnel symptoms, headaches and shortness of breath
Increase the strength, flexibility and endurance of muscles used in childbirth
Pregnancy yoga classes provide the opportunity to meet and bond with other pregnant women. They also help prepare for the stress of being a new parent. For more information on pregnancy yoga click here.
if interested please register here
Tel: 01 8642941 | Email: abcfinglas@barnardos.ie
Tel: 086 0261034 | Email: mary.callaghan@barnardos.ie
---
Baby Massage
Mary is one of our Certified Infant Massage instructors trained by Baby Massage Ireland. For more information on the free Baby Massage courses offered by Better Finglas please click here.
If interested please register here
---
Breastfeeding Support Group:
This is a Drop-In Service to support mams through their Breast Feeding journey, facilitated by our Community Midwife.